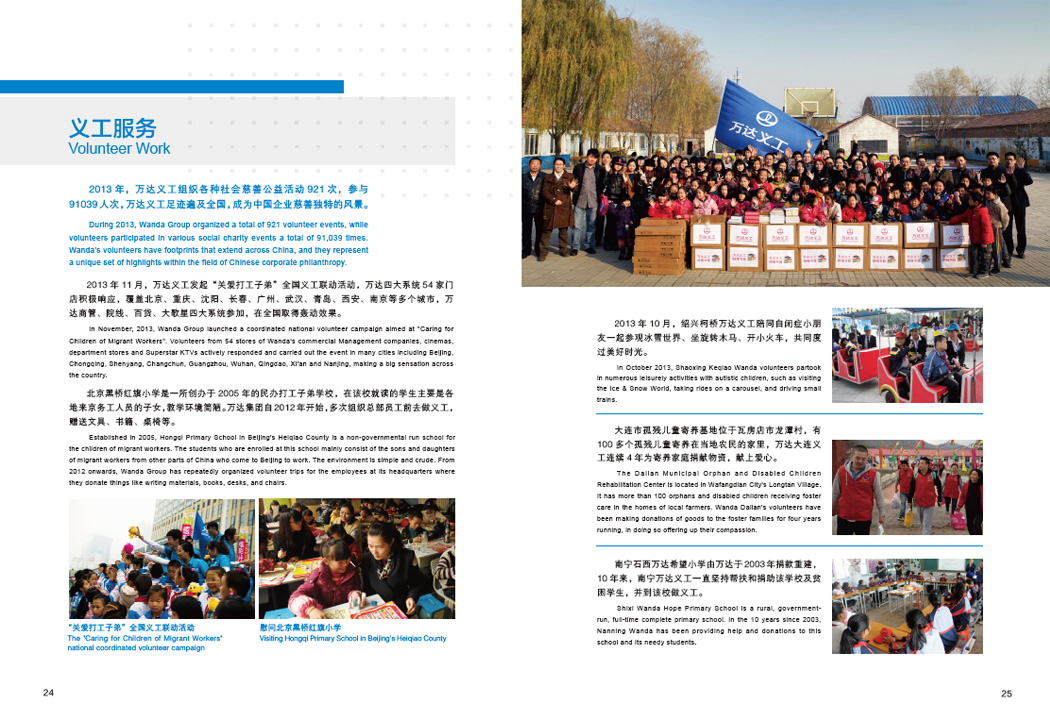 2013年,万达义工组织各种社会慈善公益活动921次,参与91039人次,万达义工足迹遍及全国,成为中国企业慈善独特的风景。
During 2013,Wanda Group organized a total of 921 volunteer events,while volunteers participated in various social charity events a total of 91,039 times.Wanda's volunteers have footprints that extend across China,and they represent a unique set of highlights within the field of Chinese corporate philanthropy.
2013年11月,万达义工发起"关爱打工子弟"全国义工联动活动,万达四大系统54家门店积极响应,覆盖北京、重庆、沈阳、长春、广州、武汉、青岛、西安、南京等多个城市,万达商管、院线、百货、大歌星四大系统参加,在全国取得轰动效果。
In November, 2013,Wanda Group launched a coordinated national volunteer campaign aimed at"Caring for Children of Migrant Workers".Volunteers from 54 stores of Wanda's commercial Management companies,cinemas,department stores and Superstar KTVs actively responded and carried out the event in many cities including Beijing,Chongqing,Shenyang,Changchun,Guangzhou,Wuhan,Qingdao,Xi'an and Nanjing,making a big sensation across the country.
北京黑桥红旗小学是一所创办于2005年的民办打工子弟学校,在该校就读的学生主要是各地来京务工人员的子女,教学环境简陋。万达集团自2012年开始,多次组织总部员工前去做义工,赠送文具、书籍、桌椅等。
Established in 2005,Hongqi Primary School in Beijing's Heiqiao County is a non-governmental run school for the children of migrant workers.The students who are enrolled at this school mainly consist of the sons and daughters of migrant workers from other parts of China who come to Beijing to work.The environment is simple and crude.From 2012 onwards,Wanda Group has repeatedly organized volunteer trips for the employees at its headquarters where they donate things like writing materials,books,desks,and chairs.
2013年10月,绍兴柯桥万达义工陪同自闭症小朋友一起参观冰雪世界、坐旋转木马、开小火车,共同度过美好时光。
In October 2013,Shaoxing Keqiao Wanda volunteers partook in numerous leisurely activities with autistic children,such as visiting the Ice & Snow World,taking rides on a carousel,and driving small trains.
大连市孤残儿童寄养基地位于瓦房店市龙潭村,有100多个孤残儿童寄养在当地农民的家里,万达大连义工连续4年为寄养家庭捐献物资,献上爱心。
The Dalian Municipal Orphan and Disabled Children Rehabilitation Center is located in Wafangdian City's Longtan Village.It has more than 100 orphans and disabled children receiving foster care in the homes of local farmers.Wanda Dalian's volunteers have been making donations of goods to the foster families for four years running,in doing so offering up their compassion.
南宁石西万达希翼小学由万达于2003年捐款重建,10年来,南宁万达义工一直坚持帮扶和捐助该学校及贫困学生,并到该校做义工。
Shixi Wanda Hope Primary School is a rural,government-run,full-time complete primary school.In the 10 years since 2003,Nanning Wanda has been providing help and donations to this school and its needy students.